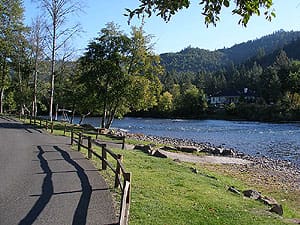 Rogue River RV Park is a family-oriented campground providing a friendly, relaxed environment to make your stay enjoyable. Please do your part to help make the campground a safe place for all.
Rules and regulations governing the campground are outlined below and should be strictly adhered to.
Management must approve any activities other than regular camping. Please understand that the management is, under no circumstances, responsible for loss or damage to any personal property.
We would like to take this opportunity to welcome you to Rogue River RV Park and express our sincere thanks for your patronage. – The Management.
Rates are payable in advance. Daily rates listed are for two people, one RV and one vehicle per space. Reservations held until 6:00pm unless paid in advance.
THE SPACE MUST BE OCCUPIED BY 6:00pm OR THE RESERVATION IS VOID UNLESS GUARANTEED BY A DEPOSIT OF THE FIRST NIGHTS STAY. Confirmation will be sent upon receipt of a deposit if requested.
Deposits are required on Holiday weekends.
Check-Out time is 11:00am.
Check-In time is 11:30am.
Group rates will be determined by the manager.
Quiet hours are 10:00pm to 8:00am.
Speed limit is 5MPH and strictly enforced.
Please show consideration and courtesy to your neighbors. Disorderly conduct and profanity are not permitted.
Campers are responsible for the registration, behavior and payment of their guests.
Children under the age of 17 years must not be left unattended on the campground. CHILDREN MAY NOT BE ON THE RIVER BANK WITHOUT ADULT SUPERVISION.
Each family is to keep their campsite clean and tidy at all times. Put trash in plastic bags and deposit in dumpsters.
Sewer connection must comply with STATE SANITARY REGULATION LAWS.
Recreational vehicle owners and/or their guests are responsible for any damage to water, sewer, electric, phone, cable TV hook-ups, buildings, trees, grass, equipment, rest rooms, etc. PLEASE BE CAREFUL!
We are not responsible for any LOSS due to accident, fire, or theft.
PET AREA is provided. Pets MUST BE on a 6′ leash at all times. Owners to clean up after pets including pet walk area. Pets are not allowed in buildings.
Alcoholic beverages will be allowed only at your campsite. No one under the age of 21 years is permitted to drink alcoholic beverages on the campground.
Restrooms are open 24 hours a day, except for cleaning. All campers are to assist in keeping the restrooms clean.
Firearms, air rifles, bow and arrows, and fireworks are not permitted on the campground at any time.
PLEASE PARK IN DESIGNATED PARKING AREAS ONLY. There is extra vehicle parking at the office and pavilion.
BOAT RAMP IS FOR GUEST USE ONLY. PLEASE LET THE OFFICE KNOW WHAT GUIDE SERVICE YOU ARE GOING TO USE.
No soliciting, selling, offering for sale, peddling or vending of any foods, liquor, goods, merchandise, service or any other items without approval.